Over 120,000 Facilities Handling PFAS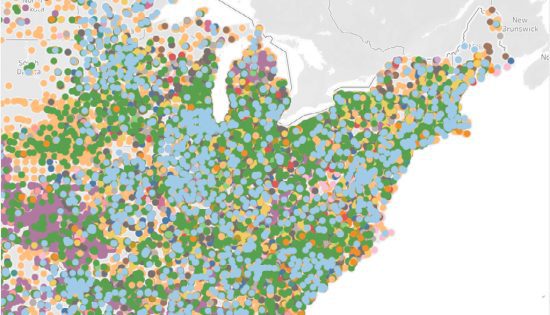 The scale of potential PFAS problems is several times larger than previously understood – more than 120,000 potential sites identified.
To address the threat posed by toxic PFAS chemicals, EPA announced a PFAS action plan almost three years ago. One of the steps in that plan was the development of an interactive map that would show sources and concentrations of PFAS in the environment.
When that map was never produced as promised, PEER sent a records request to EPA for data and information about the map. After months of delay and stonewalling by the Trump administration, PEER sued and finally began receiving documents. We felt EPA was hiding something, and we were determined to find it.
Under the Biden administration, we continued our records request. Finally, we received an EPA data set with information on some 120,000 industrial facilities "may be handling" PFAS, a figure that is over three times higher than outside experts had estimated. These figures show a scale of potential PFAS contamination in this country that is gargantuan.
The EPA figures indicate that the listed sites involving PFAS manufacture, import, handling, or storage –
Are in areas with more than 25% minority residents, with nearly 40% located within a three-mile radius of those communities;
Are found in all states and territories, but that three states, Colorado, California, and Oklahoma (in that order), house more than one-third of all the facilities listed; and
Include more than 6,000 facilities with a history of environmental violations.
The agency categorizes more than half of these facilities (around 57%) as active, with one-quarter (around 27%) categorized inactive, while the status of the balance (around 16% or more than 20,000 sites) is listed as "unknown."
"PFAS" refers to a family of human-made chemicals called per- and polyfluoroalkyl substances. PFAS are used as non-stick coatings, firefighting foams, stain and water protection for fabrics, and protective coatings; more recently, they have been used in food packaging, cosmetics, medical devices, and other commercial products, like artificial turf.
Why was EPA sitting on this data?
Probably because these revelations have huge implications for our nation's battle to contain PFAS pollution. PFAS are associated with a variety of ailments, including suppressed immune function, thyroid disease, testicular and kidney disease, cancers, and liver damage. Because PFAS have a strong carbon-fluorine bond, they do not easily break down in the environment and are called "forever chemicals." As a result, they are virtually impossible to destroy and there is no know safe way to dispose of PFAS.
Despite the serious nature of this problem, EPA is taking a lax approach to regulating these chemicals, even as communities around the country are spending millions of dollars to clean up contaminated water supplies. This data is another indication that EPA is not doing its job and seems more worried about appeasing the chemical companies than protecting public health and the environment.
PEER is advocating regulation of PFAS as a class of chemicals, removing them from our drinking water and food supply, and removing them from consumer products. In addition, PEER has been asking EPA to treat PFAS as a hazardous waste from manufacture to disposal, employing a so-called cradle to grave approach.
You can view our map of the data here.