"Advice and Consent" Is the Law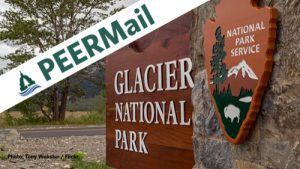 Yesterday, PEER and Western Watersheds Project filed an expedited motion in a D.C. District Court to have Margaret Everson removed as de facto Director of the National Park Service. In August, U.S. Secretary of the Interior David L. Bernhardt continued his carousel of illegal appointments by designating Margaret Everson "to exercise the delegable authority of the director of the National Park Service."
Everson's appointment violates the Federal Vacancies Reform Act. Why? Because the NPS Director is a position requiring "advice and consent" of the U.S. Senate under the Constitution, and may only be filled on a temporary basis by a qualified official appointed directly by the President
PEER's filing comes on the heels of a smackdown by a U.S. district judge in Montana on Friday, who ruled that William Perry Pendley, the acting director of Bureau of Land Management, was serving in his position unlawfully. PEER and WWP also had sued to oust Pendley but will defer to the Montana ruling unless it changes.
Court rulings under the Federal Vacancies Reform Act have also invalidated actions by "acting" DHS Deputy Secretary Ken Cuccinelli and "acting" DHS Secretary Chad Wolf.
In the Federalist Papers, Alexander Hamilton wrote that the consent of the Senate is "an excellent check upon a spirit of favoritism in the President and would tend greatly to prevent the appointment of unfit characters."  Hamilton hoped that advice and consent would make all presidents "ashamed and afraid to bring forward, for the most distinguished or lucrative stations, candidates who had no other merit" than being a loyalist.
This administration is neither ashamed nor afraid, nor does it care about federal laws or the Constitution. That is why we spend so much time on the courthouse steps, and why your support in these difficult times is so greatly appreciated.
Sincerely,
Tim Whitehouse
PS – In the midst of one of the most consequential elections in our lifetime, we found this website, Vote411.org, to be an excellent source of non-partisan voting information by state. Check it out, and vote!
---
BLM Won't Stop Illegal Grazing
A Bureau of Land Management range specialist is in hot water for her efforts to end illegal cattle grazing in Colorado's San Luis Valley. Three weeks after she laid out the problems to BLM's de facto Director, William Perry Pendley, and asked for his help, she was hit with a proposed two-week suspension, according to documents filed today by Public Employees for Environmental Responsibility (PEER).  This is another example of BLM punishing someone for doing their job and trying to protect both the public range and law-abiding ranchers. read more »
Protecting Louisiana Black Bears
PEER has joined with Atchafalaya Basinkeeper, Louisiana Crawfish Producers Association West, and other groups and individuals in filing a lawsuit in U.S. District Court for the Middle District of Louisiana seeking to return the Louisiana black bear to the U.S. Fish and Wildlife Service's List of Endangered and Threatened Wildlife, which removed it from the list in March 2016. The lawsuit disputes the FWS claim of "recovery" for the Louisiana black bear — As few as 500 of these bears may survive today. read more »
A Disappearing Toxic Study
PEER is suing the EPA, which has reversed its position on a long-awaited assessment of the health effects of formaldehyde. After representing for more than two years that it had a fully drafted assessment, EPA now argues no such draft exists. Suppressing science has become the forte of the EPA Administrator Andrew Wheeler's reign at EPA. read more »
Escaping Nuclear Clean Up
One of the nation's most highly contaminated nuclear sites may escape cleanup by its designation as a cultural district for Native American artifacts. This attempted maneuver seeks to expand a small loophole in a legally binding cleanup agreement to exempt the entire nearly 3,000-acre highly contaminated site, which includes a partial nuclear reactor core meltdown, from long-overdue remediation.  PEER is urging that the designation waits until after the cleanup is completed. read more »