From PFAS to Climate Change: Are we Moving Forward Yet?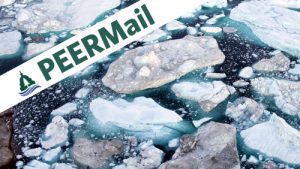 Since President Biden was elected, we have been cautiously optimistic that this administration would cut through the political dysfunction in Washington and improve the health of our public workforce and environment.
And, indeed, a lot of good things are happening. The President's executive and administrative actions on climate change and his restoration of protections for Bears Ears and Grand Staircase-Escalante National Monuments and Northeast Canyons and Seamounts Marine National Monuments are examples of positive steps the administration is taking to rebalance our country's priorities.
However, too often, this administration's actions are falling short. For example, we are amid a massive die-off of species, and the administration is taking only meager steps to protect the North Atlantic right whale and other wildlife nearing extinction. And while EPA speaks of the need to address environmental injustices, it remains unwilling to stop the spigot of toxic PFAS and other dangerous new chemicals entering the environment for fear of upsetting the chemical industry. To illustrate this point, PEER has obtained an EPA dataset with information on some 120,000 industrial facilities that "may be handling" PFAS. This figure is over three times higher than outside experts had previously estimated and shows the huge scale of potential PFAS contamination in this country.
Why was EPA sitting on these data? Because these revelations have huge implications for our nation's battle to contain PFAS pollution and show how unwilling EPA is to take the steps necessary to stop toxic chemicals from entering the environment.  ​And just this morning, EPA released a new PFAS action plan that is woefully inadequate and abandons the thousands of communities already suffering from this toxic pollution.
That is why we will continue to work with civil servants to push this administration to meet the challenges our planet faces, from toxic chemicals to marine life to climate change. It's always difficult to change the trajectory of government policy, but by working with so many conscientious activists inside and outside of government, we are here to meet that challenge together. Thank you for being part of this effort.
P.S. Check out our map on some 120,000 facilities that may be handling PFAS.
---
PEER has filed a motion to compel compliance by the Federal Aviation Administration and the National Park Service with the court order it won to complete air tour management plans by next August for 23 national parks. Both FAA and NPS are attempting to bypass requirements under the National Environmental Policy Act. Read More»
Hundreds of thousands of public housing residents remain at risk from radon exposure due to intransigence within holdover management at the U.S. Department of Housing & Urban Development (HUD). PEER has asked the new HUD Secretary Marcia Fudge to take steps to implement recommendations made by HUD's Inspector General. Read More»