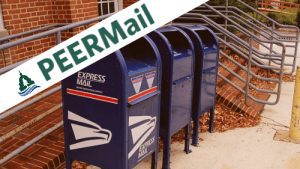 Donald Trump boasted last week he opposed additional funding for the United States Postal Service (USPS) to make it more difficult to deliver mail-in ballots.
Another new low for the President? Yes. But destroying the postal service's financial wellbeing has been the goal of many in Congress for a long time. For example, in 2006, Congress passed a law forcing the Post Office to prepay its pensions for 75 years, which no other corporation or government agency does.
From an ideological perspective, this makes sense — after all, bankrupting the Post Office would give Congress a reason to allow the private sector to step in and take over its functions.
That is what we are up against — an ideological group playing a long game to give the private sector, not the people, the power to control and profit from government services.
We see this in their relentless attacks on public health professionals, climate scientists, toxicologists and environmental and public health agencies.
Fortunately, more and more elected officials and people now recognize the important role these agencies play in keeping us safe and our economy running smoothly.
With the upcoming election, PEER is stepping up its effort to provide constructive advice as part of its Beyond 2020 Campaign to all government leaders that illuminates a path forward for environmental and natural resource agencies and reflects the values of those serving or who have served in government.
I hope you'll take a moment to read about this campaign and some of our other most recent work below.
---
Beyond 2020: The National Park Service
PEER has released its first Beyond 2020 paper, National Park System: PEER's Second Century Vision. The NPS enters its second century without a clear vision, a coherent plan of operations, and almost a complete absence of internal accountability. This paper lays out some of PEER's steps for Congress and the NPS to take so that our national parks system can better protect and preserve the country's natural and historical heritage. We welcome your input on our recommendations. read more »
Last week PEER filed two new lawsuits against the EPA for violations of the Freedom of Information Act (FOIA). PEER requested the information months ago about revisions to EPA's Environmental Appeals Board regulations and the long delay in the creation of a nationwide map of PFAS sources pollution. We are interested in learning more about why EPA is hiding this information and doing industry's bidding. read more »
Testing done for PEER has found high levels of per-and polyfluoroalkyl substances (PFAS) in reclaimed water and sludge from the South Central Regional Wastewater Treatment Plant that services the cities of Del Ray Beach and Boyton Beach. This finding matters because the reclaimed water is used for irrigation and recharging groundwater and the sludge is sold as commercial fertilizer. read more »
Over 2,500 people have signed PEER's petition to protect the internationally recognized Sea Turtle Science and Recovery Program from cutbacks. Among cutbacks are limits on rescuing stranded sea turtles and reducing the number of highly popular public releases of sea turtle hatchlings. read more »
Pendley Nomination Withdrawn
The President intends to withdraw the nomination of William Perry Pendley to head the Bureau of Land Management, according to multiple reports. Still, Pendley will remain as "de facto" head of the agency without Senate confirmation. PEER is suing the Secretary of the Department of the Interior over this illegal appointment. We will be issuing more information soon on our lawsuit. read more »