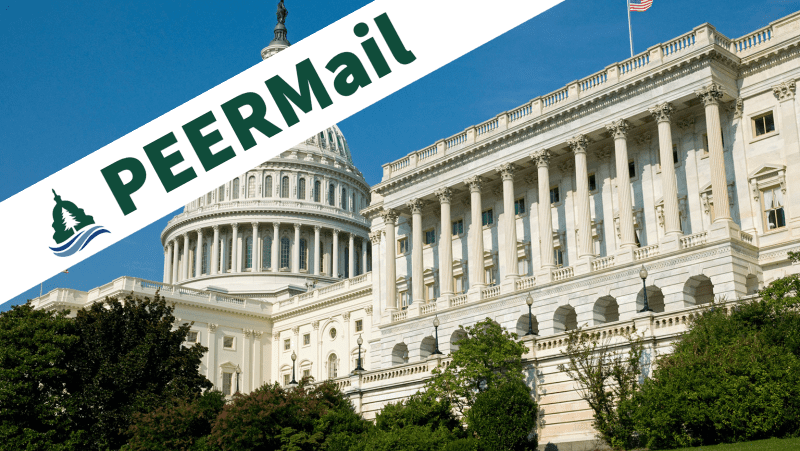 The new House leadership has made no secret of its plan to target government agencies in its efforts to weaken the federal government
read more
Public lands grazing fees are the only expense immune to inflation, despite the increasing costs to the taxpayer
read more
"These very, very high levels are likely to be transported into food and drinking water," says Monica Mercola, staff counsel with Public Employees for Environmental...
read more
The Agriculture Department's integrity policy includes similar language saying that scientists shouldn't make policy judgments. In a press release complaining about the measure on Monday, the group...
read more
We are waking up to the dangers of toxic "forever chemicals" called PFAS (Per- and polyfluoroalkyl substances) and the sources of these dangerous compounds. A...
read more
One Minnesota agency corrected its misstep and retracted a bad permit but time will tell if the others follow suit.
read more
PEER is based on the somewhat novel idea that public servants can also be activists to advance their agencies' mission when they fell short.
read more
Our elected officials and government agencies must do better to protect the North Atlantic right whale.
read more
CONFIDENTIALITY
All communications with PEER are strictly confidential.
LEARN MORE »
ANONYMOUS ACTIVISM
As a service organization assisting federal, state & local public employees, PEER allows public servants to work as "anonymous activists" so that agencies must confront the message, rather than the messenger.
LEARN MORE »
DONATE
Your donation to PEER strengthens our ability to defend whistleblowers pro bono, enforce environmental laws, safeguard public lands, and combat the political manipulation of science.