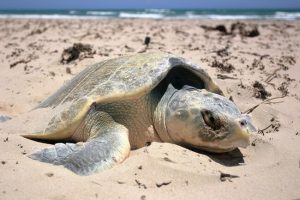 Found primarily in the Gulf of Mexico, but also in the Atlantic Ocean as far north as Nova Scotia, Kemp's ridley turtles are the smallest marine turtle in the world.
Kemp's ridleys engage in "arribada" nesting, where large groups of females gather offshore and come onto the beach to nest all at once. With many turtles coming ashore together and many nests subsequently hatching at the same time, it may help to reduce predation.
Kemp's ridleys are designated as endangered under the Endangered Species Act and are internationally listed as critically endangered. They're considered the most seriously endangered of the sea turtle species. The primary threats to this species are threats to nesting habitat, accidental capture in fishing gear like shrimp trawls, gill nets, longlines, traps, exposure to oil and gas products, and dredging in the ocean.
A large nesting area for Kemp's ridley sea turtles is in the Padre Island National Seashore in southern Texas. This bring thousands of visitors to the seashore each year. These visitors help release baby sea turtles into the ocean. This program provides important educational opportunities to the visitors and a significant economic boost to the region. The National Park Service is threatening to cut this program. That is why we are asking you to sign this petition and tell the Secretary of the Interior to save the Sea Turtle Science and Recovery program at Padre Island.
SEA TURTLE NEWS FROM PEER
Park Service Masks Cuts in Sea Turtle Recovery
Deceptive Press Release Omits Mentions of Rollbacks and Restrictions
Op-Ed | The Park Service Has Lost Its Conservation Compass
The Park Service has cut programmatic work on conservation of species like endangered sea turtles - what will it ...
PEERMail: We Need a Radical Departure on Pesticides
The federal law that provides for  regulation of pesticides has proven utterly inadequate and we need a radical ...
Flying Sea Turtles in Crisis Is Growing Concern  
Park Service & NOAA Shrink Sea Turtle Recovery Capacity as Need Spikes 
Record Green Sea Turtle Nesting on Padre Island  
Park Service Cuts Green Turtle Program Just as Need for Protection Spikes 
PETITION | Save the Sea Turtle Science and Recovery Program at Padre Island
Petition to Secretary of Interior to save the Sea Turtle Science and Recovery program at Padre Island by ...
PEERMail | Saving Rare Sea Turtles
International recognized Turtle Science and Recovery Program helps rescue loggerhead and green sea turtles but is ...
Scientists fear for the world's most endangered sea turtle as the Park Service cuts back
"Every summer, thousands of people travel to Padre Island National Seashore at dawn to cheer on sea turtle ...
Park Service Slashes Sea Turtle Rescue Program
Hatchling Releases, Stranding Response, and Research Cut at Padre Island