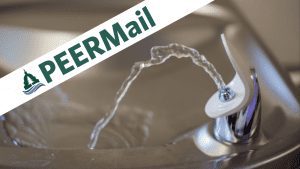 Last week, EPA's Inspector General slammed the agency for repeatedly looking the other way when public water systems don't inform their customers of violations that could jeopardize their health. The IG found that EPA does a poor job of oversight and of warning the public about dangerous drinking water.
The problem of poor oversight of our nation's drinking water supply is not new to the Trump Administration, but the brazenness of their hypocrisy is.  While EPA Administrator Wheeler has identified drinking water as a top priority, PEER has documented how the Administration has proposed massive cuts to EPA's drinking water program that would fuel a national drinking water crisis.
Not surprisingly, EPA brushed off the IG report, and instead worked itself into a tizzy over the impact of homelessness on water quality in California – another attempt by the Trump Administration to weaponize government agencies to reward friends and punish enemies.
The public servants we are working with know that EPA should not be weaponized for political purposes. That why we are focused on important water issues, such as:
We could not do this work without you, and all those who give voice to the public servants working to protect the environment. Thank you for your support.
---
Treasure Island Misinformation
PEER has posted documents showing that San Francisco's Treasure Island was not designated a Superfund site, despite earning an EPA hazard ranking nearly double the Superfund threshold.  PEER has been working to understand the risks faced by the nearly 2,000 residents currently living on Naval Station Treasure Island and prospects for building nearly 20,000 high-end condos there. EPA has presumed the U.S. Navy would rapidly remediate the contaminated site – an assumption proven spectacularly wrong as the Treasure Island cleanup has languished for years. Even at this late date, the true extent of public health and environmental risks flowing from Treasure Island remains unknown. Read more.
---
Park Service E-Bike Order Invalid
A new National Park Service order allowing electric bicycles on park trails where any bike is allowed is not legal. PEER is threatening to sue any park that implements the order without going making the proper regulatory changes. PEER contends that no park may allow e-bikes on backcountry trails or areas outside developed zones. Significantly, the acting NPS Director, who issued the order, did not follow the instructions given by the Secretary of Interior. Read more.
---
USGC Fumbles
The U.S. Geological Survey finally adopted a policy, in response to a complaint from PEER, to address its burgeoning but unsecured biological collections. USGS' new policy falls well short of what is needed, however, shortchanging both researchers and the scientific community. Read more.