Fraud in EPA's chemical assessments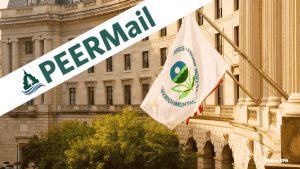 In the United States, chemical companies have largely taken control of the chemical registration process, which is why it is so difficult to stop toxic chemicals from entering commerce, and why so many toxic chemicals that are banned elsewhere continue to flood onto the U.S. market.  
The latest evidence of this comes in the form of a PEER complaint to the EPA's Inspector General detailing fraud in EPA's draft human health assessment of Telone, the brand name of the chemical 1,3-Dichloropropene. The assessment downgraded the pesticide's cancer rating. Telone, sold by Dow Chemical, is a chemical fumigant widely used in the United States to kill bugs, worms, and other organisms before planting many fruits and vegetables, such as grapes, strawberries, potatoes, and carrots. 
The complaint is stunning – it provides evidence that EPA's Office of Pesticide Programs omitted "known facts," issued false and misleading representations, knowingly ignored studies showing that the pesticide causes cancer, and overrode key internal controls in the agency. We are confident that if the IG takes this complaint seriously, it will discover Dow Chemical's undue influence in the process and serious malfeasance by EPA managers. 
We are not alone in our concerns. The Centers for Disease Control and Prevention, the state of California, and the National Toxicology Program have found Telone to be a "likely human carcinogen."  Attorneys General of California, the District of Columbia, Illinois, Minnesota, and New Mexico have accused EPA's Cancer Assessment Review Committee of failing to consider studies linking Telone to cancer in humans, and, on the day PEER filed its complaint with the Inspector General, California began the process of undertaking its own cancer review of the chemical and is preparing to set a safety threshold. 
The chemical industry's capture of EPA is putting the health of millions of Americans at stake, especially American workers. We cannot afford to wait for EPA to transcend its old habits and finally become a 21st century regulator.  One of PEER's top priorities will be keeping a close eye on EPA's chemical programs in the coming years.  Telone is just the tip of the iceberg. There will be much work to do, and we hope you will join us in this effort. 
---
The Future of BLM
 Last week, PEER hosted a webinar, A New ERA for the Bureau of Land Management?: How to Embrace Institutional Change and Conservation Management. (link to YouTube) We are grateful that Richard Spotts, Mary Jo Rugwell, and Laurel Williams joined our Rocky Mountain Director, Chandra Rosenthal, in a lively discussion on the institutional obstacles that BLM faces in implementing the Biden administration's conservation and climate goals. read more»
NOAA Kisses Off Right Whale Survival
PEER has filed comments on a NOAA proposal condemning the North Atlantic right whale to extinction. The proposal approves fishing operations with few additional safeguards for the right whale, despite a plummeting population facing increased mortality from entanglements with fishing gear. The North Atlantic right whale is one of the most threatened mammals on the planet.  read more»
Record Manatee Deaths
PEER has released data from Florida Fish and Wildlife Conservation Commission showing the first six weeks of 2021 have seen unprecedented mortality for Florida's manatees. The data show that 317 manatees have died during this period, compared to a five-year annual manatee mortality average of 578.  The cold weather, competition for limited foraging areas, red tide, and boat collisions are the primary reasons for these deaths. read more»