Biden's First 100 Days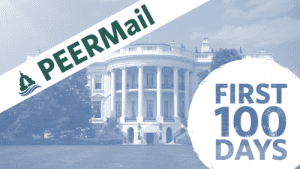 During his first 100 days in office, President Biden has begun to chart a new course for the nation's environmental programs.
Pivoting from Trump's climate antics, the President paused new oil and natural gas leases on public lands and in offshore waters, reinstated President Obama's withdrawal of oil and gas drilling from Arctic Waters and the Bering Sea, set targets for reducing greenhouse gas emissions, and established a goal of protecting 30 percent of the land and water by 2030.
Additionally, the confirmation of Deb Haaland for Secretary of the Interior and the nomination of Tracy Stone-Manning to direct the Bureau of Land Management reinforce the Administration's commitment to move away from the Trump administration's fossil fuel agenda and involve the public in Interior's decision-making processes. Likewise, EPA's new Administrator, Michael Regan, has vowed to make the agency  more transparent and has promised to focus on environmental justice concerns.
However, there are some troubling signs. The appointment of Tom Vilsack for Secretary of the Department of Agriculture, who held that position under President Obama, signals a tough road ahead for the scientists at USDA whose work does not support the positions of Big Ag. The failure by EPA to restore Dr. Ruth Etzel to the EPA's Office of Children's Health Protection and impose consequences on those who violated the agency's scientific integrity policy under Trump goes against the Administration's promise to repair the damage from the previous administration.
All of this indicates that there is a lot of work ahead for us, both to hold the administration to its promises and to pressure our political leaders to be more aggressive in addressing climate change, protecting public lands and wildlife, and stopping our country's overreliance on toxic chemicals.   
With your help, we will continue to apply that pressure, so we can help continue move this country in the right direction.  
---
PEER has filed an Information Quality Act complaint with NOAA, seeking a correction of the scientific record, including rescission of NOAA Fisheries stock assessment and fishery evaluation reports for the Bristol Bay red king crab for the years between 2015 and 2020. The Bristol Bay red king crab has plummeted from being Alaska's most valuable single-species fishery to a remnant population not due to long-standing scientific obfuscation and falsification by the fisheries branch of the National Oceanic and Atmospheric Administration (NOAA). Read More»
PEER has filed comments urging Yellowstone National Park to reject a plan to bury 187 miles of fiber optic cable that may compromise some of the park's unique hydrothermal features, or to at least require the preparation of a full Environmental Impact Statement (EIS). The plan would multiply bandwidth in the park some 300,000-fold by trenching areas where specialists warn further infrastructure should be "prohibited" and current infrastructure should be removed, where possible, not expanded. Read More»
The Trump administration removed Dr. Ruth Etzel as Director of EPA's Office of Children's Health Protection after she repeatedly spoke out about EPA's failure to protect children's health from lead and other environmental pollutants. Now Dr. Etzel has won a national award as she fights to return to her position, leaving many to wonder if EPA will made good on its promise to support those who spoke out against Trump-era abuses. Read More»