Wrong Approach to Reopening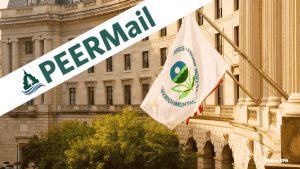 Three months into the COVID-19 pandemic, federal agencies are under tremendous pressure from the White House to bring those who have been working at home back to their offices. That is the wrong approach to reopening. COVID-19 isn't going away anytime soon, and no amount of wishful thinking will change that. 
In a rational world, the administration would be identifying and supporting mission essential functions that need to be performed in the office while continuing to maximize offsite telework opportunities for all staff. 
Instead, we are living in a Trumpian world of make-believe.  In this world, we see chaotic announcements of office openings followed by closings as the virus continues to spread.  The problems are particularly acute at EPA, which botched its COVID-19 response but has been able to maintain its laser-like focus on repealing health and environmental safeguards as rapidly as possible.  
That is why PEER is working with Federal employees who are calling for greater transparency and involvement in their agency's decision on staffing issues during the pandemic.  
No matter how quickly the Administration wants to return to an air of normalcy, the lack of cogent direction for individual agencies on COVID-19 responses is becoming increasingly apparent and will continue to put federal workers and the public at risk. 
PEER is proud to be standing with federal employees who are demanding answers. 
Tim Whitehouse
Executive Director 
---
Climate Censorship 
PEER is calling on the University of Colorado – Boulder Faculty to pursue an independent investigation into the University of Colorado's dismissal of world-renowned climate scientist, Dr. Detlev Helmig. The dismissal delighted the oil and gas industry but raises serious questions about the influence of the industry on research conducted by university scientists. Dr. Helmig's work has connected spikes in air pollution with emissions from fossil fuel extraction northeast of Boulder County. This research indicates that oil and gas emissions are underreported, are not declining as the industry has claimed.
---
Migratory Bird Kills 
A complaint of ethics and legal violations from a group of senior retired U.S. Fish & Wildlife Service employees is stuck in limbo after the Interior Department's Inspector General informed the retirees that their complaint would not be investigated until they reveal the names of FWS employees who quietly complained. The complaint involves the Service's actions in proposing changes to the Migratory Bird Treaty Act that would make it easier to kill migratory birds. We are calling on the IG to explain its troubling request and to get back into the business of investigating complaints. 
---
National Parks Reopening 
The chaotic closing and now reopening of national parks during the COVID-19 pandemic has received significant attention due to the risks of spreading the disease between visitors, park employees, and gateway communities. 
Over the years, national parks have grown addicted to overcrowding. That is why PEER is calling on parks to develop carrying capacities pursuant to the National Parks and Recreation Act of 1978. In reopening, some parks have adopted a reservation or timed-entry system to prevent overcrowding. That is a positive start. Developing carrying capacities will improve the visitor's experience, and during the pandemic, it will help minimize the spread of the disease. 
---
We Must All Address Racism and Economic Injustice
Our national history of racism stands with us today – in our criminal justice system, in the redlining of neighborhoods, in inequalities in our education and economic systems, and in health and environmental burdens borne disproportionately by communities of color. With our democracy under attack and corruption deeply rooted in all levels of government, our fight is not to return to the status quo, but to work for a more clean, healthy, just and fair country for everyone. Read our full statement here.