Pendley Debacle Unmasks David Bernhardt's Legal Charades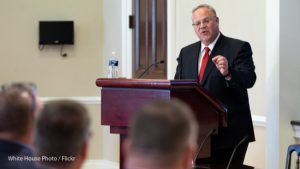 In a judicial smackdown ruling last Friday, Chief District Judge Brian Morris of the U.S. District Court for the District of Montana embarrassed Interior Secretary David Bernhardt, shredding his arguments that William Perry Pendley, the self-described "Sagebrush Rebel," could and would remain the de facto leader of the U.S. Bureau of Land Management (BLM).
Judge Morris ruled that –
Pendley has served unlawfully as the Acting BLM Director from Day One (424 days);
Bernhardt could not lawfully delegate the authority of BLM Director; and
The Parties will brief what acts of Pendley "should be set aside" as without "force or effect."
Ouch.
This ruling came in a suit filed by Montana Governor Steve Bullock which parallels a similar suit brought by PEER to oust not only Pendley but also de facto Director of the National Park Service, Margaret Everson (who does not even work at the Park Service).
It was satisfying to read how Judge Morris summarily tossed the absurd justifications Bernhardt has been using to justify this Potemkin personnel shuffle to evade the requirements of Senate confirmation. Consider some of the legal malarkey Bernhardt was peddling—
Pendley "is not BLM's Acting Director, but rather is the official performing the Director's duties under the Secretary's delegation." The court found this sophistry "a distinction without a difference." It does not matter what Bernhardt calls Pendley (we suggest "Queen of the May"), he was clearly functioning as BLM's director.
Harry Truman okayed it. Bernhardt loves to cite the "Reorganization Plan Number 3 of 1950" setting up the post-WWII Interior Department as giving him some sort of plenary superpowers. The court could find no such hidden authority (and suppressed a chuckle).
As Interior Secretary, he could appoint subordinates however he saw fit. But the court found certain appointments must be made by the President and must conform to the law, in this case the Federal Vacancies Reform Act.
While this evasion of the Senate's constitutional "advice and consent" powers is not limited to Interior, it has been perhaps most pronounced there. As a former Interior Solicitor, Bernhardt was supposed to know the law.
Yet, Bernhardt and his minions show a similarly slapdash grasp of the law governing topics such as climate change, endangered species, the National Environmental Policy Act, among others. This means that like Pendley, these many other actions already challenged in court, have a high likelihood of being invalidated.
Bernhardt was confirmed by the smallest margin ever for any interior secretary. At the current rate, he may leave the smallest legacy – and thank goodness for that.
---

Jeff Ruch is the Director of PEER's Pacific office, having formerly served 22 years as the Executive Director of PEER.