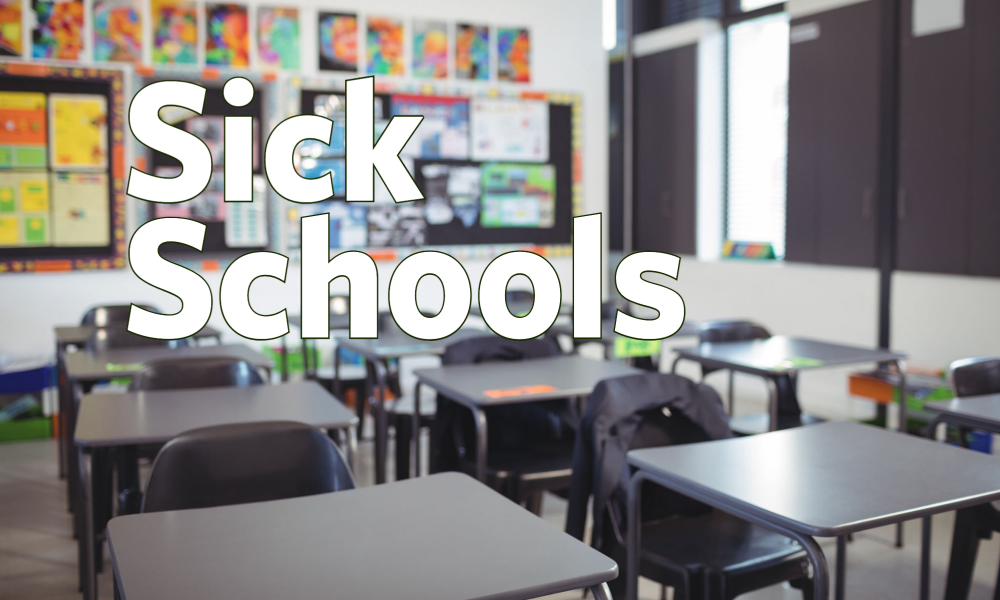 No federal law prevents local authorities from building new schools on contaminated land. However, the problem of building schools on hazardous sites, ranging from old landfills, abandoned factories to even a former Manhattan Project lab, has finally been recognized as a dangerous pattern. 
In reaction, several states have enacted laws to prevent siting of new schools on toxic sites.  These measures provide little relief to a large but unknown number of schools atop hotspots – some for decades, like the Malibu/Cabrillo schools. Besides what is in the soils, many older school buildings are themselves the source of problems. An estimated one-third of U.S. schools have mold, dust and other indoor air problems serious enough to provoke respiratory issues like asthma in students and teachers.Additionally, construction materials have also been shown to be dangerous to long term  A national survey of school nurses found that 40% knew children and staff adversely affected by indoor pollutants.
Malibu/Cabrillo Schools
In an ongoing PEER case, the Santa Monica Malibu Unified School District's classrooms showed dangerous levels of toxic Polychlorinated Biphenyls (PCBs) "over 100,000 ppm (parts-per-million) and measurements up to 570,000 ppm" compared to the statutory limit of only 50 ppm. Several teachers and students had been diagnosed with serious thyroid and autoimmune related illnesses. PEER joined forces with America Unites for Kids to force the District to clean up the schools.
In 2016, the Court ordered that the school district remove all PCBs or cease using the toxic buildings.
"Defendants are hereby permanently enjoined from using any office, classroom, or other structure at Juan Cabrillo Elementary School ('JCES') and Malibu Middle and High School ('MHS') (collectively the 'Malibu Campus') constructed prior to 1979 in which students, teachers, administrators, or staff are regularly present after December 31, 2019, unless all window and door systems and surrounding caulk at any such location has been replaced."
The EPA has deemed PCBs a probable carcinogen and scientific evidence has shown that they lower IQ, interfere with brain and body development, and cause neurological, endocrine and thyroid disruption. The District expended $13 million to avoid removal, including $6 million on legal fees to fight this case.
In 2018, The Santa Monica-Malibu Unified School District filed a motion seeking to significantly postpone the effective date of the 2016 federal court order directing removal of illegal levels of hazardous chemicals in its Malibu classrooms and facilities.  If granted, the legal motion would keep students and teachers inside dangerously contaminated buildings until December 31, 2024.
PEER is working with concerned public school teachers, staff and agency professionals to identify and remedy sick schools.
SICK SCHOOLS NEWS FROM PEER
Malibu School Toxic PCB Clean-Up Still a Mess
Students and Teachers Still in Rooms Contaminated Well Above Legal Limits
Malibu Schools Want 5 Year Delay in Toxic PCB Cleanup
Students and Teachers Would Remain in Unsafe Classrooms Until 2024 Demolition
Court Finds Toxic Violations in Malibu Schools
Judge Finds that PCBs Exist Throughout the Schools and Must be Cleaned Up
Malibu Toxic Schools Case Clears Hurdle for Trial
Court Rejects School District Attempt to End PCB Contamination Lawsuit
Malibu School District Sics Cops on Parents
Vandalism Complaint for Taking PCB-Laden Caulk Samples for Lab Testing
Failed Toxic Cleanup at Malibu Schools
Congressman Ted Lieu Sends EPA Reports of Illegal PCBs
EPA Stealth Rollback of School PCB Safeguards
Material and Exposure Testing Discouraged; Child Exposure Levels Loosened
PCBs Removed From Santa Monica Schools but Left in Malibu
Comprehensive Testing and Precautionary Removals Sought but Denied in Malibu
BLM Judge Greenlights Malibu School PCB Lawsuit
District Spending Tops $6 Million in Steps to Avoid Complete Cleanup
School District's Own Tests Show Shocking PCB Levels
Highly Toxic Classrooms Still Occupied with No Abatement Date Slated
Federal Lawsuit to Force Toxic Cleanup of Malibu Schools
Immediate Removal of PCBs above Legal Limits and School-Wide Testing Sought
Malibu Schools Spending Millions to Avoid Toxic Cleanup
Billings by Lawyers and Consultants Exceed What a Full Cleanup Would Cost
New Malibu Tests Show Alarming Classroom Contamination
Severe Health Risk from Most Toxic Form of PCBs in Stratospheric Concentrations
Malibu Schools Will Remove Known PCBs but Won't Test for Them
Will School Act on Independent EPA-Lab Tests with Ultra-High Illegal PCB Levels?
District Attorney Called on New PCB Findings in Malibu Schools
School District Threatens Fearful Children with Truancy, Teachers with Termination
Malibu Parents and Teachers Prep Lawsuit to Force Cleanup
Notice to Sue Filed Against District and EPA for Toxic Substances Control Act Violations
Malibu Teachers Face Firing for Balking at Toxic Classrooms
School Officials Threaten Parents With Arrest If They Protest on First Day of School
Malibu Schools Highly Contaminated With Toxic PCBs
Classroom Levels Highest in the Nation; Independent New Tests Show Need for Broader, More Aggressive Remediation Plan
Malibu Teachers Reject Schools PCB Cleanup Plan
Illegal Levels of PCBs to Remain in Classrooms; No Soil Testing on Campuses
Malibu Schools to Test Campus Soils for Toxics
Parents and Teachers Urge Comprehensive and Transparent Assessment
Malibu School Contamination May Stem From WWII Uses
Artillery Depot, Training Base and Motor Pool Occupied Present Day Campuses
Malibu Teachers Refuse Return to Toxic Classrooms
No Confidence in Scope or Effectiveness of District's Clean-Up Plans
Malibu Teachers Protest District's Toxic Plans
Focus, Completeness and Transparency of Testing and Clean-Up Faulted
Malibu Teachers Demand Broader Toxic Testing at School
Scope and Source of Contamination Still Unknown as District Tries Damage Control
Widespread Asbestos Violations in Massachusetts Schools
EPA Intervention Demanded to Eliminate Asbestos Problems before Schools Reopen
Toxic New Jersey Elementary School Finally Wins Relief
Vapor Intrusion Controls May End Three-Year Ordeal at Atlantic Highlands
Probe Called for in New Jersey Toxic High School Fiasco
Inspector General Asked Why "Kiddie Kollege" Law Failed Clifton High School
MERCURY IN NEW JERSEY DAY-CARE CENTER 3,000 TIMES STANDARD
State Wants to Demolish Old Thermometer Plant but No Further Testing of Kids
NEW JERSEY SCHOOL CONSTRUCTION REFORM GETS FAILING MARKS
No Environmental Reviews Prior to Building More Schools on Toxic Sites
NEW JERSEY AGENCY LETS KIDS PLAY ON TOXIC WASTE PILES
No Warnings or Postings for Years as State Dickers with Company
60 MORE NEW JERSEY DAY-CARE CENTERS NAMED ON TOXIC WARNINGS
Hundreds of Homes, Schools and Other Facilities May Also Be Vulnerable
CORZINE URGED TO CLOSE LOOPHOLES IN TOXIC DAY-CARE BILL
Conditional Veto Could Strike Out Exemptions and Strengthen Safeguards
NEW JERSEY AGENCY SAT ON SECRET LIST OF 6,000 TOXIC DANGER SITES
Latest Corzine "Kiddie Kollege" Reform Scheme Falls Well Short of Mark
NEW JERSEY TOXIC DAY CARE REFORM BILL STILL MISSES THE MARK
State Grasping for Quick Fixes to Broken Brownfields Program
NEW JERSEY LEAVES DOOR OPEN FOR MORE SCHOOLS ON TOXIC SITES
Governor's "Working Group" Dodges Question of Acquiring Toxic Land for Schools
CALL FOR INSPECTOR GENERAL TO HEAD MERCURY DAY-CARE PROBE
Severe Toxic Problems Acknowledged in 2002 Internal "Vulnerability Assessment"
MERCURY-LADEN DAY-CARE CENTER IN NEW JERSEY IS NO ANOMALY
Lax State Brownfield Laws Make Tragedy an "Accident Waiting to Happen"
RADIOACTIVE SCHOOL SITE IS TIP OF NEW JERSEY TOXIC ICEBERG
Over 100 School Site approvals expedited under Secret Deal